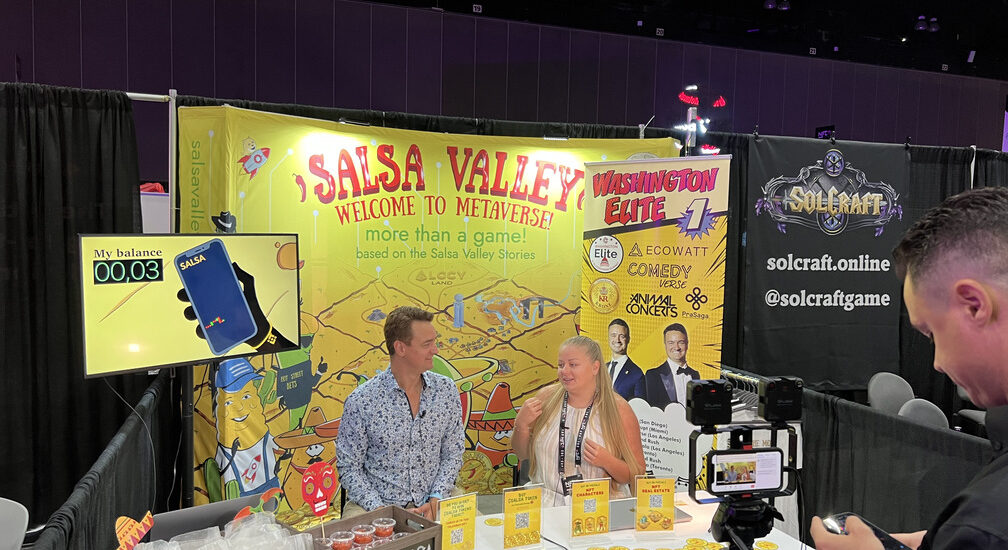 Salsa Valley at the NFT Expoverse 2022 in Los Angeles
It was very HOT! Salsa Valley was featured at NFT Expoverse on July 29-31, 2022 in Los Angeles – the largest blockchain expo where entrepreneurs, creators and enthusiasts gather to expand their projects and network with leading experts in crypto, Defi, dApps, Web3, Metaverse, AR, VR. More than 100 GameFi projects built on the Ethereum, […]
It was very HOT!
Salsa Valley was featured at NFT Expoverse on July 29-31, 2022 in Los Angeles – the largest blockchain expo where entrepreneurs, creators and enthusiasts gather to expand their projects and network with leading experts in crypto, Defi, dApps, Web3, Metaverse, AR, VR.
More than 100 GameFi projects built on the Ethereum, BNB Chain, Solana, Near, and other blockchains took part in the event. The event was attended by several thousand guests: crypto enthusiasts, NFT collectors, talented artists, blockchain developers, Metaverses and Web3, as well as many other special guests.
Our metaverse partner @SalsaValley represented at the @NFT_Expoverse ! Make sure to say hi if you're there 👋 pic.twitter.com/zYYzDmow6r

— 𝗝𝘂𝘀𝘁𝗶𝗻 𝗪𝗮𝗶𝗮𝘂 (@waiaujustin) July 29, 2022
The Salsa Valley team attended the NFT Expoverse in Los Angeles as part of our 🌶 "Meet Crypto Summer with Salsa Valley" US promotional tour with real parties, DJs, salsas and a Latin vibe. Hundreds of guests at our booth participated in competitions organized by our team and received hot salsa and chips.
We are grateful to the NFT Expoverse team for a well-organized exhibition, to our partners and the media, such as for covering this event. Read the 👉 review about NFT Expoverse